Entertainment
Wurstfest Festival Pavilion
New Braunfels, TX
Products: CF Mesa
Colors: Koko Brown, Igloo White
Architect: MarmonMok Architecture, San Antonio, Texas
Consultant: Wiss, Janney, Elstner Associates Inc., San Antonio, Texas
General Contractor: Byrne Construction Services, San Antonio, Texas
IMP Installer: Earnest Roofing, New Braunfels, Texas
Learn more about the Retail Market Segment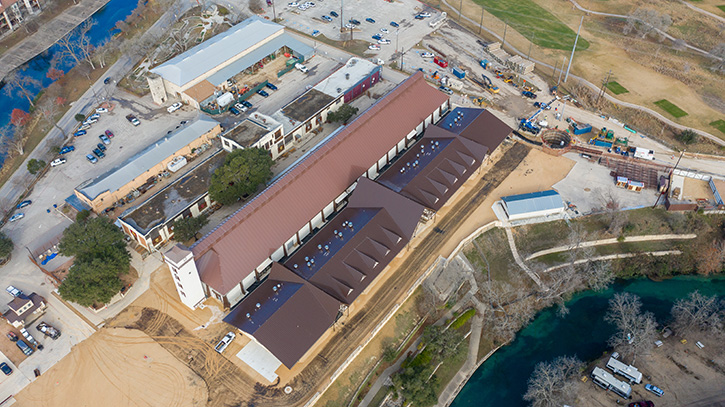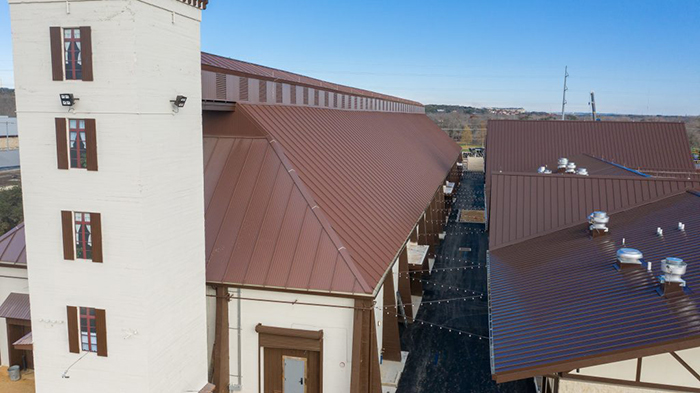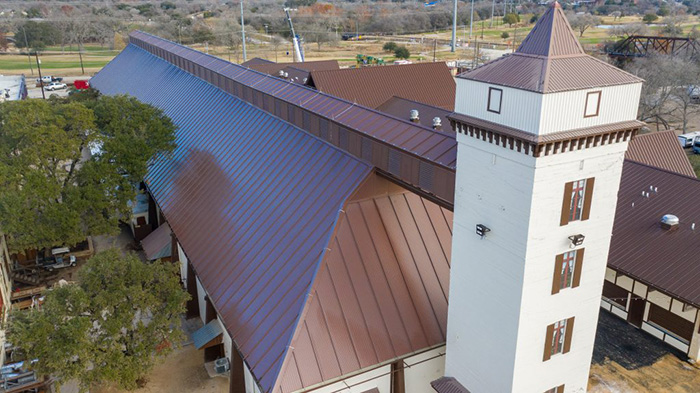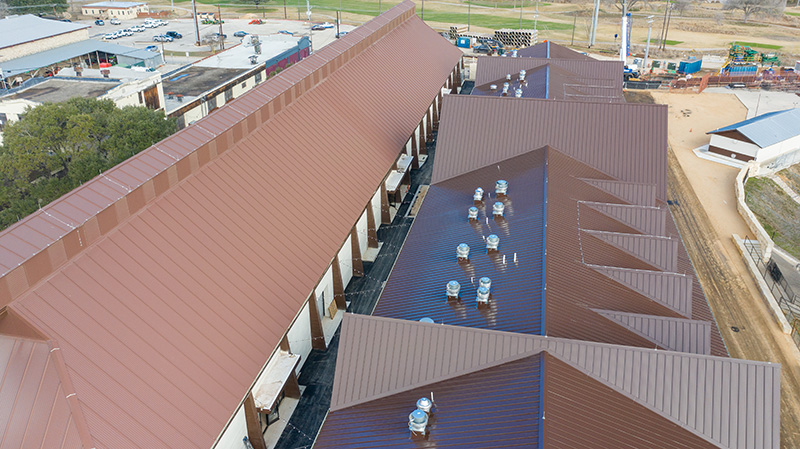 "Ultimately, installing a structural panel also gave us better performance, a better system, one that met the short- and long-term goals for the project. In a truly collaborative way, we, as a team, thought through the best performative solution and landed on the IMP."
After fire, Metl-Span IMPs installed on Texas 17,000 square foot festival building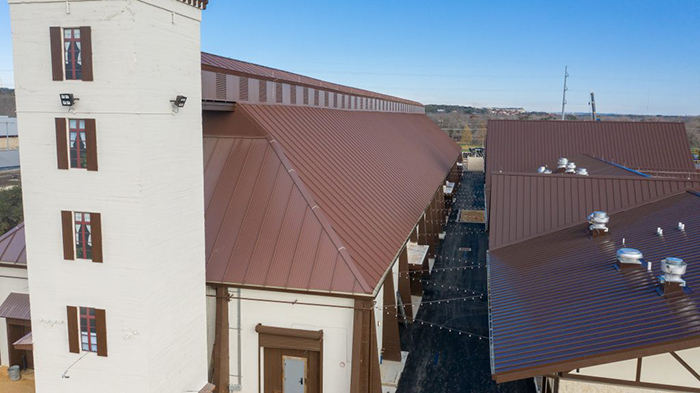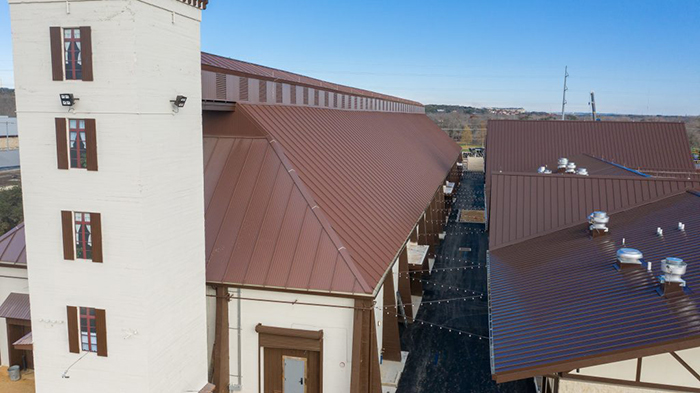 Wurstfest is a popular annual celebration of German culture in New Braunfels, Texas. Just days after the successful November 2019 event wrapped up, a fire damaged the large facility that hosts the 10-day festival. With less than a year to reconstruct the 27,000 square foot facility for the 60th annual event in November 2020, there was no time to waste.
Because there was a deadline to meet, insulated metal panels (IMPs) from Metl-Span were specified for the new Wurstfest facility. IMPs can be installed faster than other materials for walls and roofing.
Kevin McClellan, AIA, RID, Senior Associate at MarmonMok Architecture of San Antonio, and Mitch Schuetz, director of commercial production at Earnest Roofing of New Braunfels, were part of the design-build team led by Byrne Construction Services under the direction of Tony Battle and project manager Michael McCall, that assessed the damage and worked on a reconstruction design plan.
"We went with insulated metal panels on this project because it was just easier and quicker than installing insulation and a single skin panel," McClellan says. "Ultimately, installing a structural panel also gave us better performance, a better system, one that met the short- and long-term goals for the project. In a truly collaborative way, we, as a team, thought through the best performative solution and landed on the IMP."
Soffits and roof ventilation at the peak had all been boarded up, reducing airflow in an attempt to keep the building warmer for the annual November event. However, the performance was not improved due to the batt roofing insulation becoming damaged by decay over the years due to condensing moisture from the crowds. This issue is eliminated by the use of the IMPs, which are sandwiched two-inch urethane core metal panels.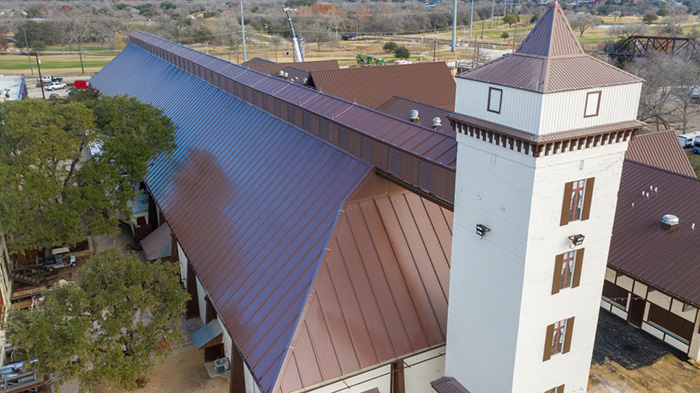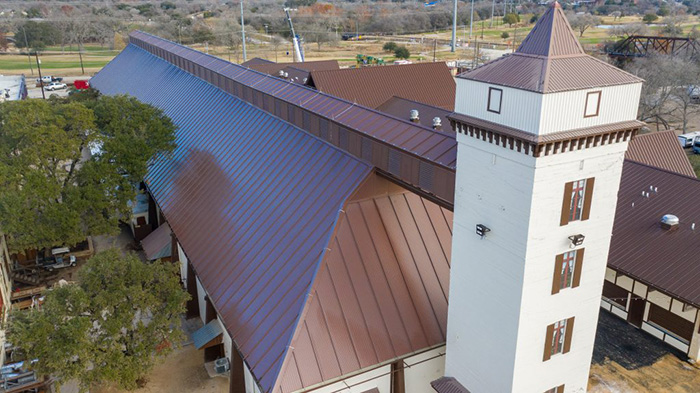 McClellan says Wurstfest organizers were considering a modification to condition the building for the event. Therefore, the choice of IMPs is better suited and would meet the energy code conservation performance requirements and be a first step toward that transition.
Schuetz says Earnest Roofing was able to use most of the steel purlins left in place after the fire, but approximately 25 percent had to be replaced because the fire's heat had melted the steel structure pieces. After the damaged purlins were replaced, the Earnest Roofing crew started installing the insulated metal panels, some as long as 41 feet on the rather steep slope of 11:12. The cupola roofing section at the peak has a 6:12 slope.
Because the building is so old, there was a lot of work to be done before panels could be installed. "We were dealing with a 100-year-old building," Schuetz says. "Nothing is square, nothing is plumb, nothing is straight, nothing is true. We spent one full day popping lines on one side of the building to make sure we could get those panels installed straight and another full day popping lines on the other side. After that, once we got the first panel in place, it all went together the way it should have."
Metl-Span offered assistance with details and calculations, helping ensure a proper installation.
"We had a boom lift inside the building to get our crew members to wherever we were installing the panels," Schuetz says. "From there, they would climb out on the purlins and be in position to put each panel in place. We used a CladBoy vacuum lift for the panels to get them into place. The longest panels weighed about 350 pounds. We had six guys outside in position to guide the panels into place. It really was fun watching this all come together, even better than we had hoped."
Earnest Roofing installed more than 40,300 square feet of two-inch thick CFR42 panels from Metl-Span. The exterior panels were 24-gauge Galvalume coated with a premium silicone polyester in Koko Brown. The interior panels were 26-gauge Galvalume coated with Polyester coating in Igloo White, which Wurstfest chose to paint Turkish Coffee to match the project's color scheme.
Metl-Span CF42 panels were installed as 3-foot-wide wall panels on each side of the building. Almost 3,500 square feet of the two-inch CF42 panels were installed in the same Koko Brown as the roof. Between each panel was a 3-foot-wide louver fabricated by Earnest Roofing.
Construction was on schedule so the 2020 event could be held, but because of COVID-19, the event was canceled. The new facility is certainly ready for the 2021 Wurstfest. A New Braunfels native with ancestorial heritage among the Wurstfest founders, Schuetz says he was personally invested in this project. "From Austin to San Antonio, people know that Wurstfest is a big deal," he says. "I've been going for years and I'll be able to take my kids and grandkids and tell them I had a part in rebuilding what will stand there for a long, long time."
---
Have Questions About Our Products?
Please fill out the following information and an experienced sales representative will be in contact. We look forward to hearing from you!
---
View our Privacy Policy