Athletic Facilities
CSU Practice Facility
Fort Collins, CO
Products: CF-42 Light Mesa
Colors: Igloo White, Light Stone
Architect: Aller-Lingle Architects, Fort Collins
General Contractor: Saunders Construction, Centennial, CO
Learn more about the Athletic Facilities Market Segment
"The University wanted a nice interior finish appearance plus a good R value.  The profile of the panel also created an attractive exterior look, which is what the architect wanted. And the Metl-Span panels allowed us to achieve significant labor savings which is what everyone wanted."
METL-SPAN PANELS PROVIDE AESTHETICS, FUNCTIONALITY FOR PRE-ENGINEERED ATHLETIC FACILITY
The new Colorado State University Indoor Practice Facility in Fort Collins, CO sports 39,000 sq. ft. of Metl-Span CF-42 Light Mesa insulated wall panels. The 2" panels were finished in Herring Bone on the exterior and Igloo White on the interior.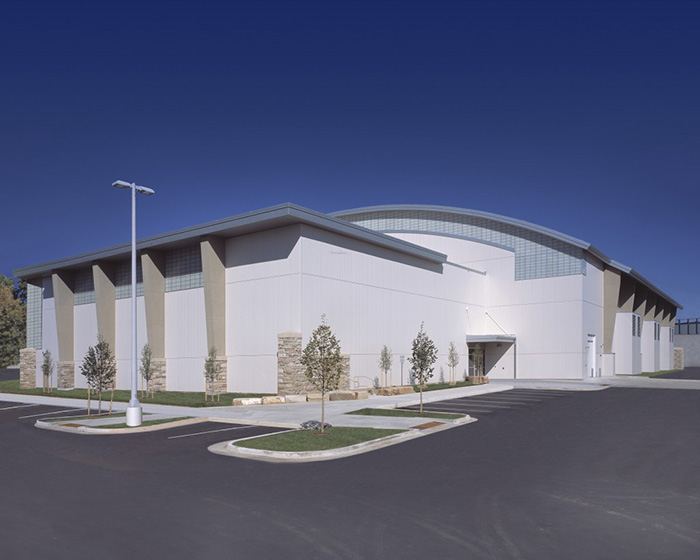 The 72,000 sq. ft., $13 million facility provides practice areas for football, basketball and volleyball. It is 65 feet at its tallest point and contains a 70 yard synthetic turf football field with adjacent track.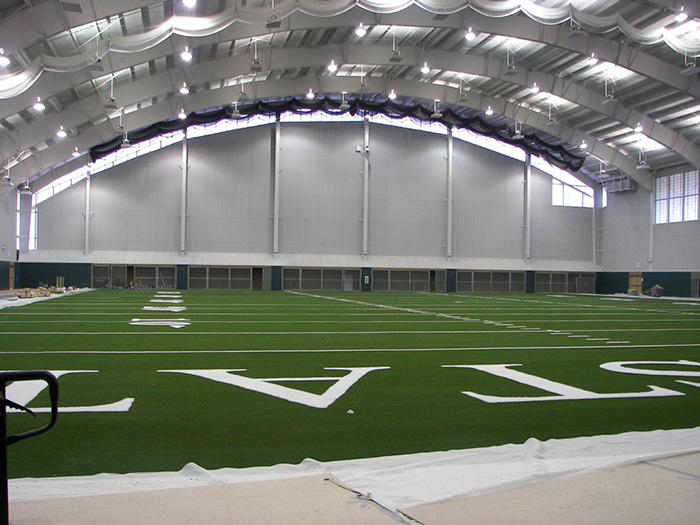 The pre-engineered structure from VP Buildings was erected by Lefever Building Systems, Fort Collins. Lefever is one of Varco Pruden's largest builders in the country, according to Dave Boss, project development manager. "We incorporate Metl-Span panels into our buildings whenever an insulated panel is called for which seems to be more and more frequently with the higher R values that can be achieved with a thinner wall thickness than with traditional blanket insulation," said Boss.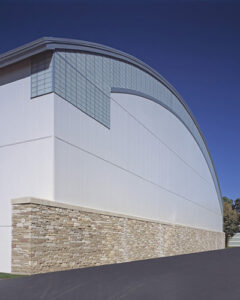 The one-piece nature of Metl-Span panels was also an important factor. According to Boss, "The University wanted a nice interior finish appearance plus a good R value. The profile of the panel also created an attractive exterior look, which is what the architect wanted. And the Metl-Span panels allowed us to achieve significant labor savings which is what everyone wanted."
The University had attempted to get funding for the project for a decade. Now that the new facility is in place, it has become a great recruiting tool for CSU's athletic program. "We want to make pre-engineered buildings look good," Boss said. "And with the help of Metl-Span and other key manufacturers, we feel we do that. This project is a good example."
The architect for the project was Aller-Lingle Architects, Fort Collins. The general contractor was Saunders Construction, Centennial, CO.
Metl-Span pioneered many of the developments of insulated metal panels and continues to make significant contributions to design innovations and technology that shape industry standards. For more information on the complete line of Metl-Span products, call 877-585-9969 or visit www.metlspan.com.
---
Have Questions About Our Products?
Please fill out the following information and an experienced sales representative will be in contact. We look forward to hearing from you!
---
View our Privacy Policy