Athletics Facilities
YMCA Facility
Exeter, NH
Products: Tuff-Cast™, CF Striated Wall Panel, Tuff Wall®
Color(s): Light Gray, Textured White, Terra Cotta
Architect: Bruce Ronayne Hamilton Architects, New Ipswich, N.H.
IMP Installer: Brookside Co. Inc., Stow, Mass/Barrett Siding, Londonderry, N.H.
Completion: April 2015
Learn more about the Athletic Facilities Market Segment
"Insulated metal panels provided us with an aesthetic that made the facility not look like a metal building."
Metl-Span's palette of IMPs produces unique YMCA facility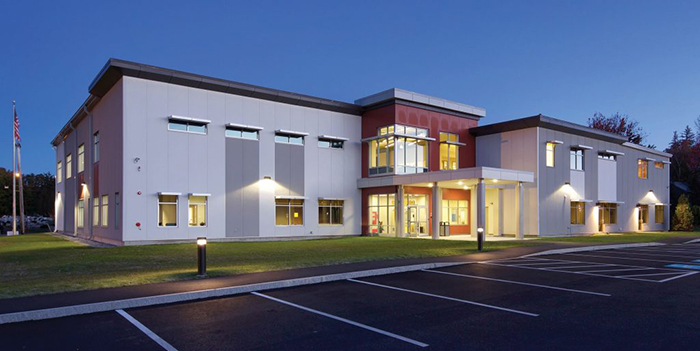 Each new YMCA facility is constructed focusing on the needs of the community it's serving and the Exeter, N.H., YMCA is no different. The 33,000 square foot facility features fitness studios, weight and cardio rooms, a gymnasium, indoor track and a community room.
Almost 17,000 square feet of insulated metal panels from Metl-Span make up the envelope for the building. Brian Hoey, president of Brookside Co. Inc. of Stow, Mass., oversaw construction by Barrett Siding of Londonderry, N.H, including the erection of girts and installation of insulated metal panels.
"We had some tough February snowstorms to deal with and some extremely cold days," Hoey says. "Still we were able to get everything done in about 4-5 weeks. The panels were laid out so they were lined up with where they wanted the windows. That's the advantage of working with IMPs. With the exception of some of the extremely cold days, we were able to keep working to get the building closed in by mid-April. Some other products require warmer weather to build."
The exterior of the Exeter YMCA is comprised of three Metl-Span profiles, including 8,388 square feet of Tuff-Cast in Textured White; 3,436 square feet of Striated Wall Panel in Terra Cotta; and 5,089 square feet of Tuff Wall in Light Gray. All three profiles are coated with Valspar's Fluropon architectural exterior coating that offers a masonry aesthetic often desired by architects and building owners. Tuff Wall is a stucco-like insulated metal panel, while Tuff-Cast offers the appearance of finished precast concrete.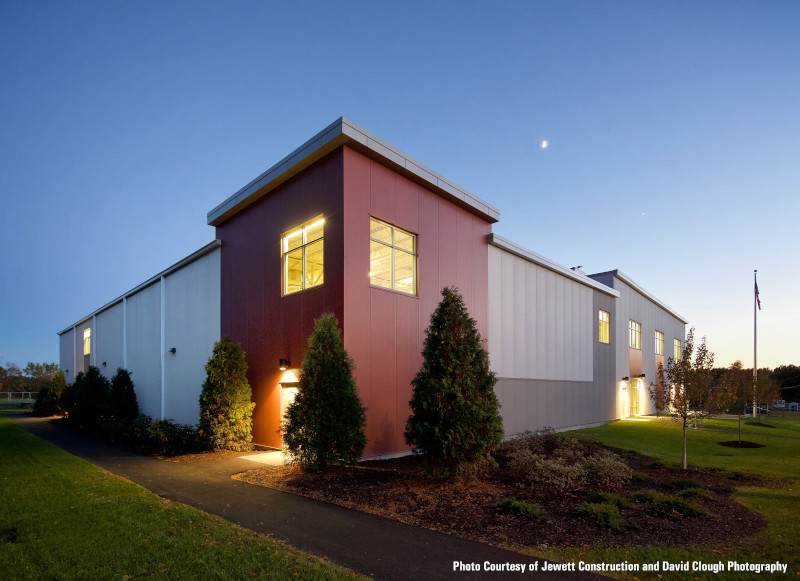 "Insulated metal panels provided us with an aesthetic that made the facility not look like a metal building," says Brittany Blin, an associate with Bruce Ronayne Hamilton Architects of New Ipswich, N.H. "We didn't want it to stick out as a cold building, but a gathering place where families feel welcome. Specifying panels in different colors really warms up the appearance."
Blin says the sleek look of the insulated metal panels helped achieve the aesthetic goals everyone was hoping for.
Metl-Span is a NUCOR® company. (NYSE: NUE); delivering high-quality, durable and energy-efficient insulated metal panels designed for unparalleled performance to stand the test of time.
---
Have Questions About Our Products?
Please fill out the following information and an experienced sales representative will be in contact. We look forward to hearing from you!
---
View our Privacy Policy