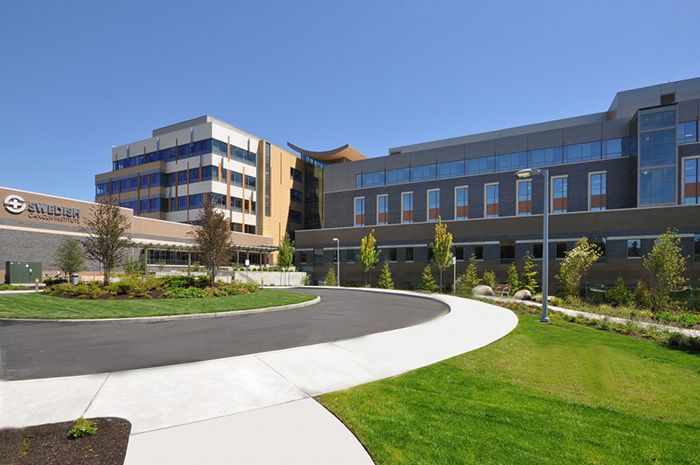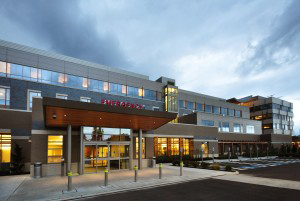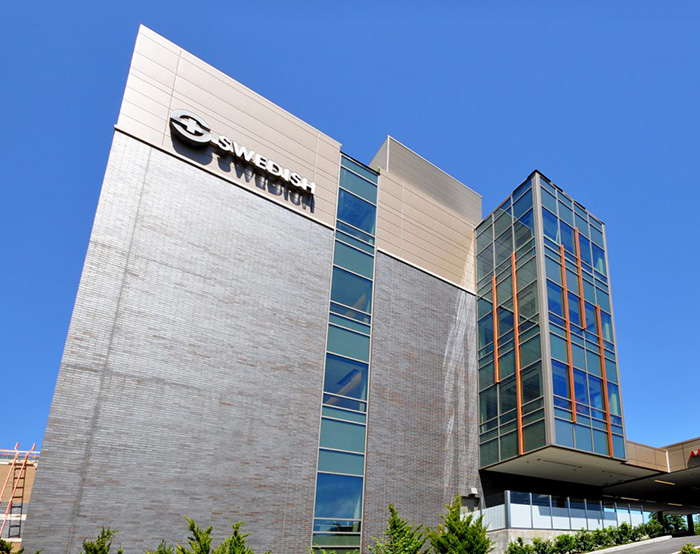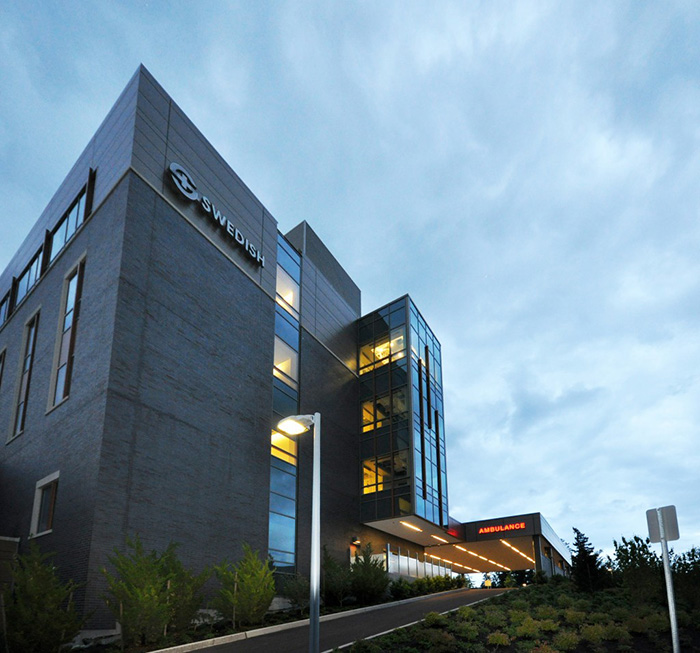 "Installation of the panels was a little tricky because we had to do it all from a swing stage.  Each panel was brought down from the roof and that took some time but with Metl-Span being a component system, that helped the installation go quickly. And the building turned out gorgeous."
METL-SPAN PANELS SELECTED TO CLAD ENERGY EFFICIENT HOSPITAL
Located in the foothills of the scenic Cascade Mountains, the new Swedish Medical Center in Issaquah, WA is one of the most energy efficient hospital campuses in the nation. The 550,000 square foot, two-phased project includes an acute care hospital and adjoining medical office building. The project focused on the concept of a Commons—a central, unifying and orienting public space which acts as interface between the medical offices and hospital.
Architectural design for the project was provided by CollinsWoerman Architects, Seattle. The interconnected themes of nature, nurture and community were incorporated in the design with crisp aesthetics and material integrity to evoke a sense of warmth and familiarity.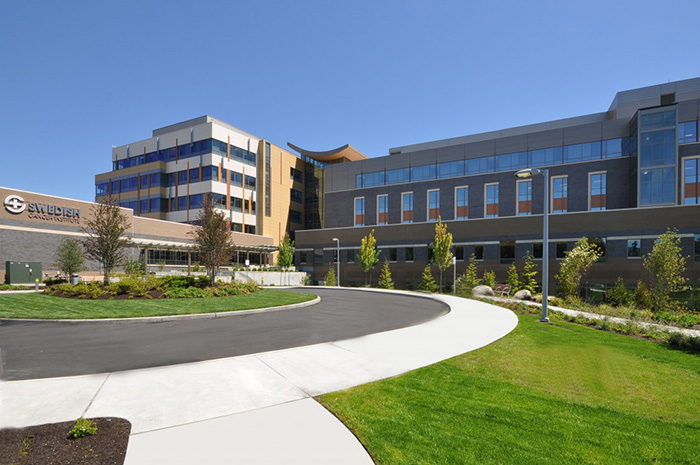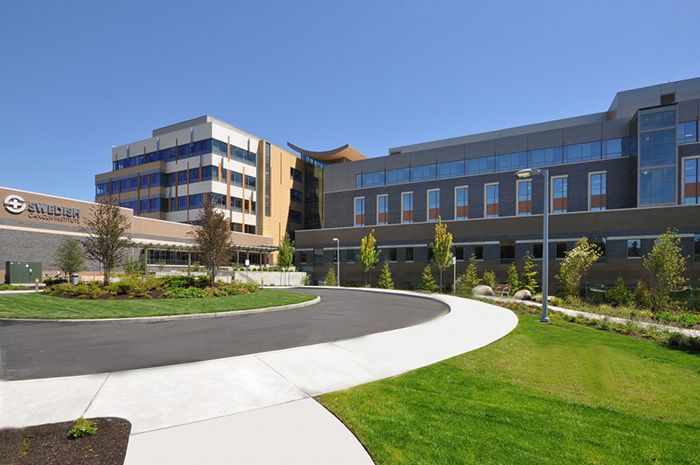 Approximately 16,000 sq. ft. of Metl-Span 2″ CF Architectural and CF Striated insulated wall panels finished in custom Harvest Gold Pearl were utilized on the hospital structure which included two 320 ft. wings.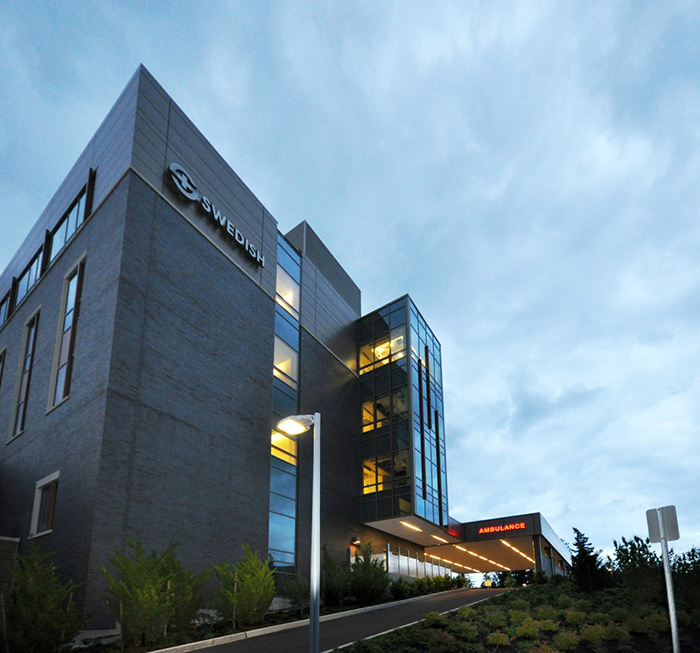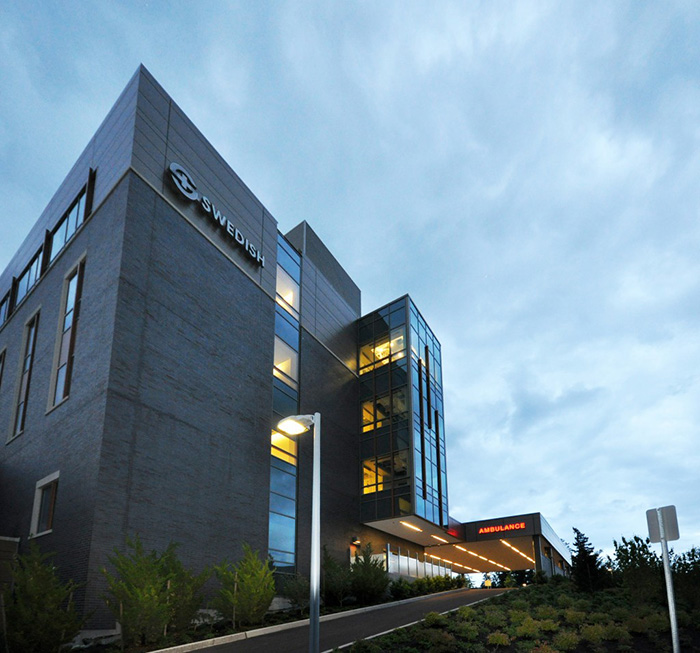 "Each wing was fairly long and massive," according to James Walker, project architect and design lead. "We sought to break down the scale a bit by using a different material to contrast with the brick and precast at the bottom of the building. We switched to the Metl-Span panels at the fourth floor which helped change the scale and proportion so the building didn't seem so massive. We also opted to use two profiles to provide a subtle technique to further break down the scale."
One of the greatest challenges regarding the project was the aggressive construction schedule. "It's remarkable how fast this building went up," Walker said. He also volunteered his opinion of insulated metal panels. "I really like them. They have a nice appearance and they provide a fairly cost effective way of handling the exterior envelope while providing additional insulation."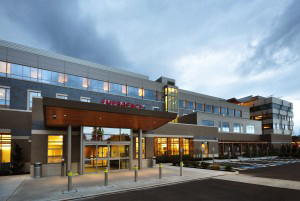 Installation of the Metl-Span panels was done by McKinstry Company, Seattle. Project manager Matt Pereira agreed that the schedule was a challenge. "It was a fast-paced job that required a lot of coordination with the GC, subs and architect. It was a great team effort," Pereira said. "Installation of the panels was a little tricky because we had to do it all from a swing stage. Each panel was brought down from the roof and that took some time but with Metl-Span being a component system, that helped the installation go quickly. And the building turned out gorgeous."
---
Have Questions About Our Products?
Please fill out the following information and an experienced sales representative will be in contact. We look forward to hearing from you!
---
View our Privacy Policy