Sustainably designed and easy to install, insulated metal panels deliver high performance levels and durability for walls and roofs making them a great option for a wide variety of applications. If you're wondering why you should specify these energy-efficient, pre-engineered panels on your next project, we offer 10 reasons.
At the Detroit Public Safety building, CF Architectural insulated metal panels were quick and easy to install.
#1 – Ease of Installation
Designed to take the place of multi-component systems, IMPs offer a streamlined, single-source installation eliminating the need for multiple subcontractors. Functioning as an air barrier, waterproofing system, insulation and exterior finish, the installation process proceeds at a much faster pace and the building can be turned over to the owner in a more expedited manner.
Offering cost savings from a labor standpoint, IMPs are less vulnerable to weather delays. Consider concrete tilt-up, for example. The material has to be poured on site and dried. Only then can the walls be erected. At the same time, rain and snow can delay the curing process. IMPs, on the other hand, are much more forgiving as the foam core does not absorb water or moisture and construction can often continue in wet weather conditions.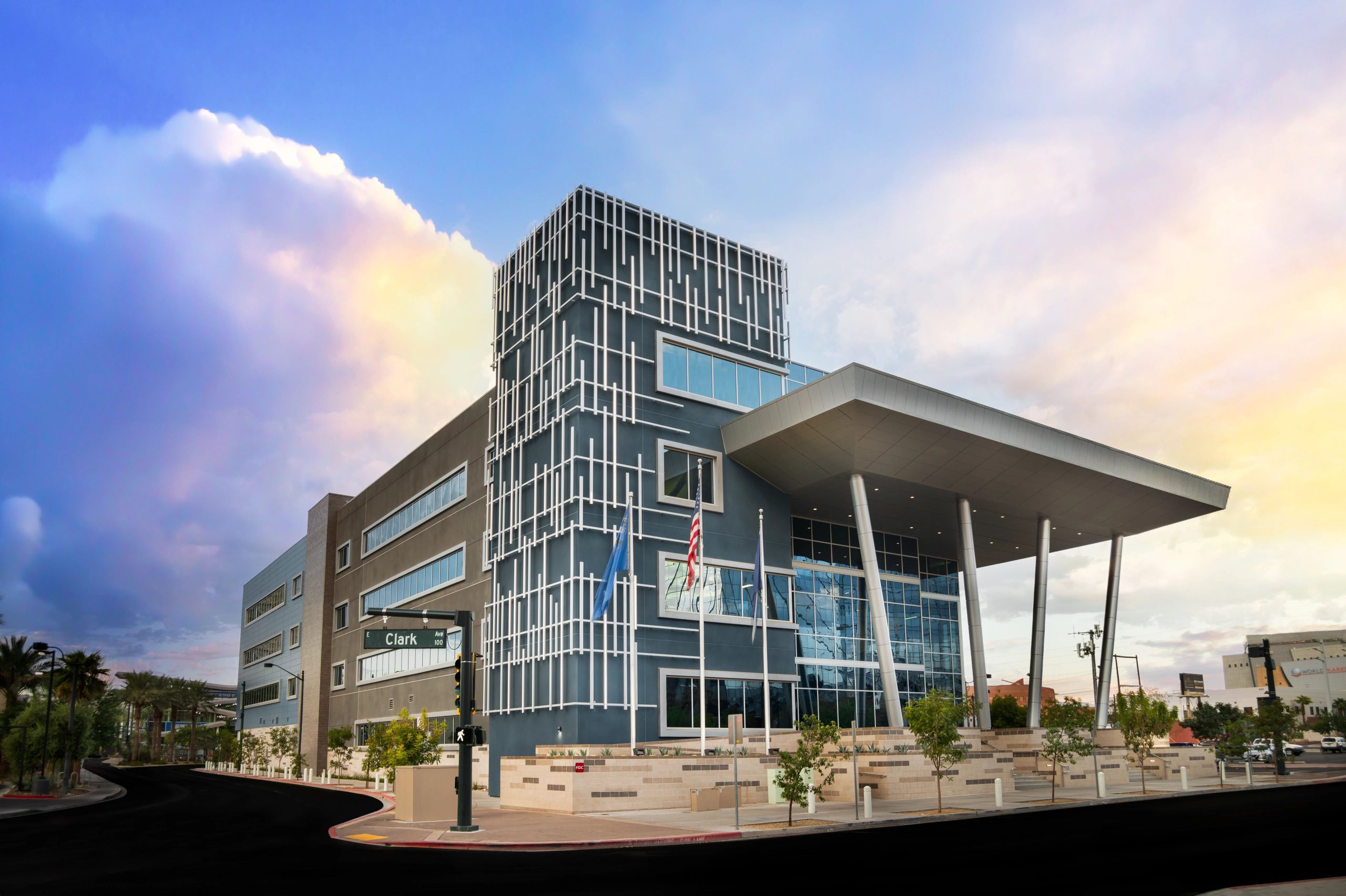 #2 – Energy Efficient
With 7.5 per inch of R value, IMPs deliver unsurpassed thermal efficiency. As building owners and architects are challenged to meet stricter and stricter energy requirements, the insulation offers a great benefit as the building doesn't have to use as much heating or cooling energy to maintain comfortable indoor temperatures. Further, the IMPs can contribute toward green building and net-zero goals.
#3 – Quick Construction Time
Eliminating the pouring and drying or on-site fabrication required by other materials, pre-engineered IMPs arrive on site ready to go. They are picked up with vacuum lift equipment, moved and positioned in place. Then workers mechanically fasten and lock in the panels. The process is fast and only requires a small crew. By reducing the number of necessary trades, vendors to manage and materials to order, this drives down costs.
Further, as an all-in-one system, the panels can potentially be installed in half the time as other systems. IMPs can, in some cases, be erected at an average rate of 5,000 square feet of panel per day, which can be very helpful for fast-tracked projects. Often times the labor savings can be critically important for an owner and design team.
#4 – Design Flexibility
Available in multiple profiles, colors, textures and reveals for horizontal or vertical installations, the panels deliver a modern, sophisticated aesthetic. They can also work in tandem with other building materials for multi-faceted façade designs.
Metl-Span's CF Architectural, Mesa, 7.2 Insul-Rib and ThermalSafe panels combine to deliver thermal efficiencies and a welcome storefront for the Lynn, Mass-based Kettle Cuisine.
#5 – Longevity
Made from high quality metal – G-90 galvanized and AZ-50 aluminum-zinc coated steel – IMPs can last up to 60 years. Enhanced with an optional 70% PVDF fluoropolymer coating, the panels are warrantied and built to last.
#6 – Environmentally Friendly
More than 35% of the metal skin panels are made with recycled content and 88% of the scrap steel from our panels is recycled. As indicated, the product's R-values helps enable building teams to meet or even exceed energy code requirements and qualify for LEED rating points.
#7 – Durable and Efficient
As noted, IMPs provide all the control layers for air, water and vapor in one system. With conventional construction, all these elements have to be built out. First, the stud walls are erected, for example, and separate membranes are installed for water and air barrier protection. In some cases, layers in the assembly for sound control and insulation inside the stud cavity wall are added.
IMPs provide all those parts and pieces of the wall assembly in one system with one installation crew, which is very advantageous. This consistency and a single source of responsibility creates a more durable, high performing system.
#8 – Low Maintenance
While buildings are subjected to many variables based on project location, climate, and regular wear and tear, the panels are manufactured and designed to last. Available with paint finish warranties of up to 40 years, this means they will likely require re-painting just once throughout their life cycle.
#9 – Fire-Resistant
While the panel's polyurethane foam core offers great insulation, IMPs can also be manufactured with a mineral wool core to meet one-, two- or three-hour fire-resistance ratings. In other words, the mineral wool insulated wall panel is fire resistant while still providing good insulation value.
At Sirna & Sons Produce in Ravenna, Ohio, Flute, Light Mesa and Mesa IMPs

keep the food refrigerated while lending a nice aesthetic.
#10 – Variety of Applications
In addition to exterior wall construction and roofs, IMPs can be used for interior assemblies whether it's partition walls, demising walls or drop-down ceilings. Ideal for food and beverage industry and cold storage construction with interior climate control rooms, the panels can be built as a box within a box. Another newer growing application is Cannabis facility grow rooms.
Checking the Boxes
Ultimately, choosing IMPs is a sound investment delivering construction efficiencies, energy savings, longevity and more.
Have Questions About Our Products?
Please fill out the following information and an experienced sales representative will be in contact. We look forward to hearing from you!
---
View our Privacy Policy