As a pre-engineered, all-in-one barrier, air, water, and vapor enclosure with excellent thermal properties, insulated metal panels (IMPs) are a great cladding solution for many commercial, institutional and industrial building types. Offering an extensive profile of aesthetic options, IMPs have evolved way beyond their original boxed cold storage applications, now enabling architects to execute colorful, stylish designs that are highly energy efficient and easy to install.
In comparing IMPs to tilt-up concrete, the ready-to-go panels offer a number of construction advantages. With tilt-up, all of the concrete building elements must be cast horizontally, poured and cured. Then the contractor must wait for the sheathing, building wrap and insulation from multiple trades to be installed prior to interior finishing. With IMPs, the panels arrive at the jobsite all ready for installation.
In addition, tilt-up construction requires the services of a number of carefully scheduled and coordinated sub-contractors while IMPs offer a simplified, cost-effective build out. The more streamlined, expedited project process consequently delivers cost savings, particularly with larger projects.
In fact, the Metal Construction Association's (MCA) Selection Guideline for Insulated Metal Panels states that IMPs can be erected at a rate of up to 5,000 square feet per 8-hour shift by a four-man crew on an industrial project, and up to 1,100 square feet per 8-hour shift by a four-man crew on an architectural project.
"IMPs are a holistic design solution, which drastically reduces install time in lieu of other materials that require multiple trades and multiple schedules," explains Bruce Beahm, AIA, principal, Populous, Kansas City, in a MCA continuing education unit entitled "The Ins and Outs of IMPs".
All-in-One Weather-Resistant System
All components of a well-sealed building enclosure are incorporated into the panels. Unlike tilt-up which rely on multiple products and systems to meet ever increasing building enclosure requirements to keep air, water and vapor out of the building envelope, IMPs offer a fully-integrated, high performing enclosure with a single-source of responsibility.
"Separate materials installed individually have greater potential for failure points. As a single system, IMPs can improve weather and airtightness, which are key for high-performance buildings," says Tim Keil, RA, associate principal, Studio Ma, Phoenix, in another MCA CEU, "Insulated Metal Panels: An All-In-One Air and Water Barrier."
With a specialized insulated foam core sandwiched in between to coated metal sheets, IMPs also deliver the highest insulating value of any cladding material on the market.
John Straube, Ph.D., PE, principal, RDH Building Science, Toronto, points out that IMPs are one of only a few types of building products that can provide an entire building enclosure in one pre-engineered product.
"From interior to exterior finish, to structural support and the control layers needed for environmental separation, the strong, stiff metal skins of IMPs provide excellent, time-proven water and air control," he writes in his white paper, Controlling Air and Rainwater Using Insulated Metal Panel Enclosure Systems.
To ensure this high level of quality, the American Architectural Manufacturers Association's AAMA 508-07 measures four performance characteristics: air leakage, pressure equalization behavior, water penetration and structural performance.
The energy codes also require certain levels of thermal performance and gives cladding two paths of compliance, prescriptive and performance. For the former, IMPs must check the box on a chart of minimal thermal values, and with the latter, the building is modeled to determine energy usage against an acceptable baseline.
Offering some strategies on how to optimally approach code compliance in its "Prescriptive vs. Performance Building Codes" blog, Metl-Span's experts highly recommend using U-values instead of R-values as the code-complying metric for insulation. Whereas the code's R-value tables are based on fiberglass batts with rigid insulation boards, IMPs are much more efficient than fibrous insulation systems. Consequently, the U-value tables better quantify IMP thermal performance.
When a performance-based path to compliance is taken, IMP's higher U-values offer architects more flexibility with the performance levels of other building components as enclosure performance is evaluated as a whole.
Great Aesthetics
In addition to IMPs construction and performance benefits, architects can customize the panels to create great-looking facades. Offering a broad palette of colors, designers can select traditional hues like silver or pearl white, or choose from a number of bolder colors such as Regal Blue, Hunter Green or Colonial Red. The panels come in vertical and horizontal applications, and can be smooth, embossed or texture coated.
Case in point, for downtown Milwaukee's new 25-story BMO Tower, Kahler Slater specified CF Architectural panels in Charcoal and Satin Nickel and CF Light Mesa panels in Tundra for the 8-story parking block at the base of the building. Delivering a sleek, modern look, the custom-colored panels match the louvers which run vertically down the side of the structure.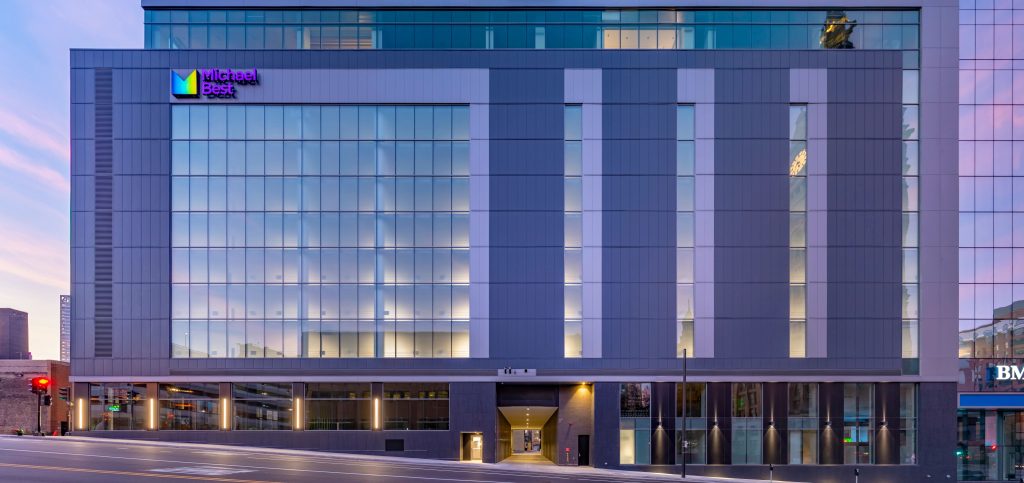 Performance wise, trimless ends and pre-formed corners eliminated the need for metal flashings. The IMPs water resistant features protect the panels from the rainwater streaming down from the large glass curtain wall which clads the majority of the high-rise. Further, the panels themselves delivered the required insulation levels with no need for additional insulation.
Another example of IMP's aesthetic and performance attributes are displayed in Amazon's new 4-story, 750,00 square-foot fulfillment center near Spokane, Wash. DLR Group selected lightly corrugated CF Mesa insulated metal panels in vertical strips of between 42 and 49 feet in Polar White, Sandstone, Zinc Gray and Smoke Gray.
Manufactured with an offset double tongue-and-groove system, the panels slide into each other for ease and efficiency in installation and create a seamless flow from panel to panel. Because the IMPs are fastened on one side, they deliver a concealed system.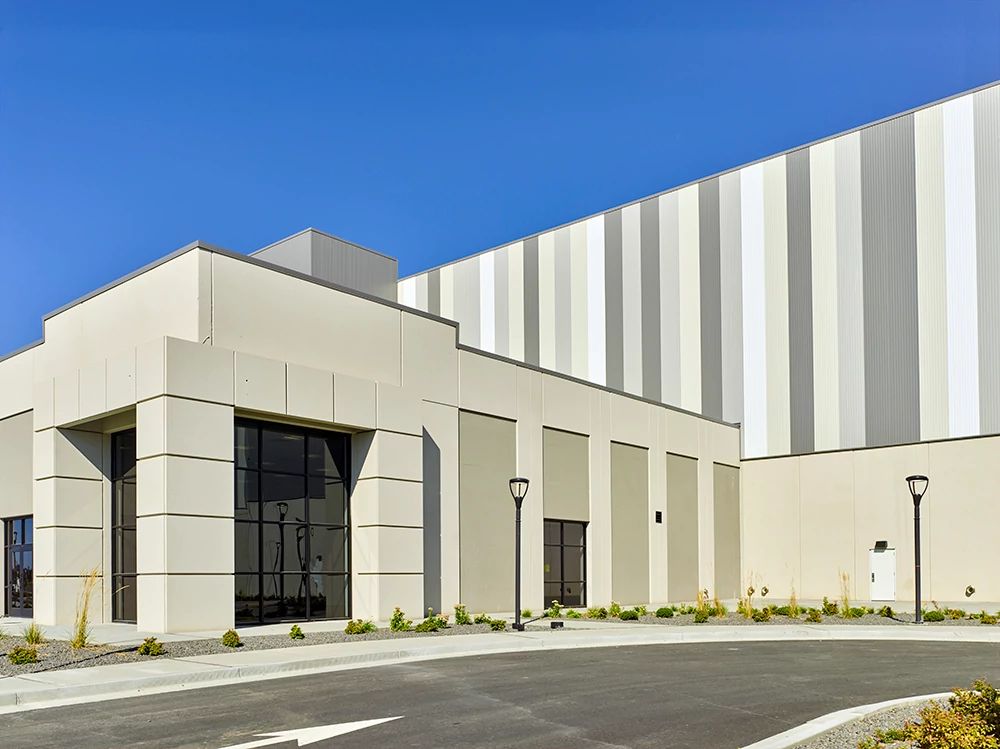 Have Questions About Our Products?
Please fill out the following information and an experienced sales representative will be in contact. We look forward to hearing from you!
---
View our Privacy Policy