Office
SKS Bottling
Saratoga Springs, NY
Products: CF Santa Fe Wall Panel, CF Light Mesa
Colors: Charcoal Gray, Tundra, Igloo White
Architect: John A. Paone, RA, Paone Architecture, Saratoga Springs, N.Y.
IMP Installer: Munter Enterprises, Saratoga Springs, N.Y.
Completion: September 2018
Learn more about the Retail Market Segment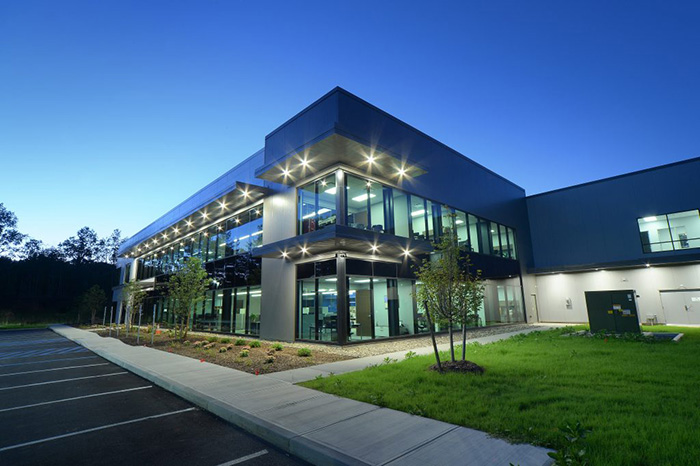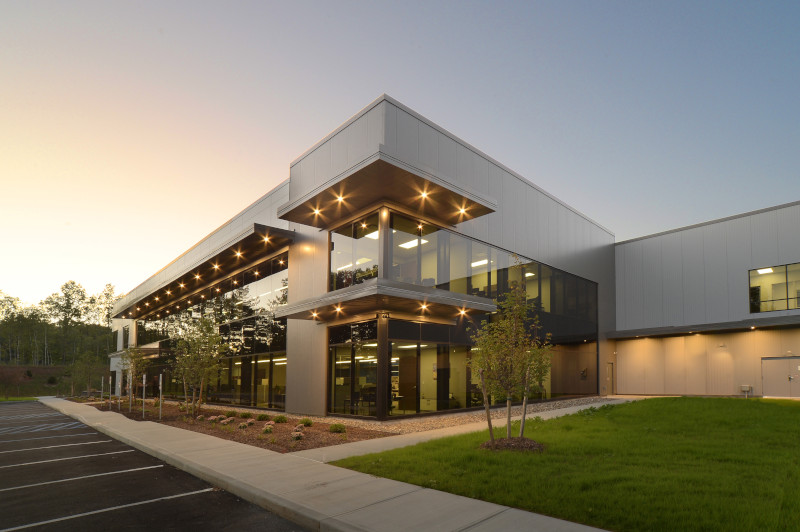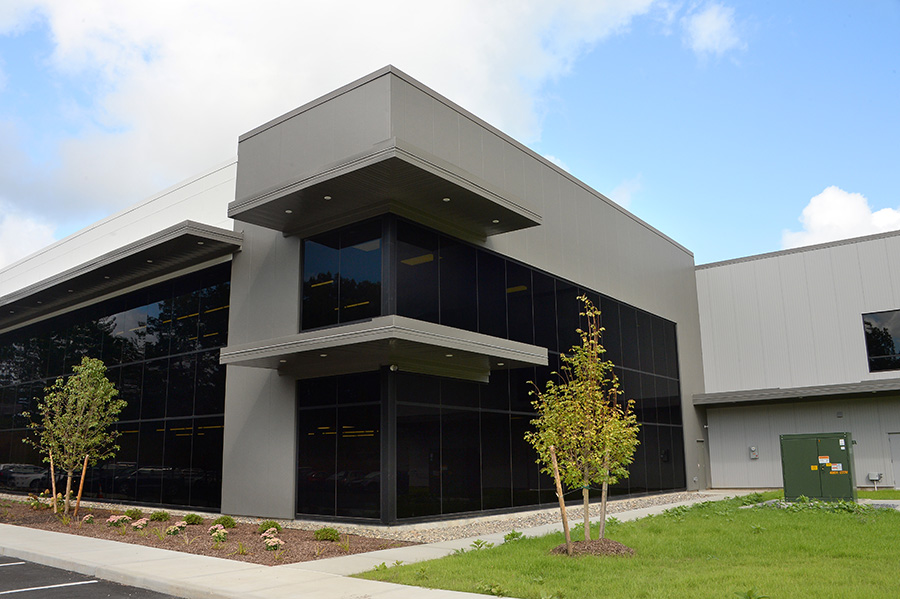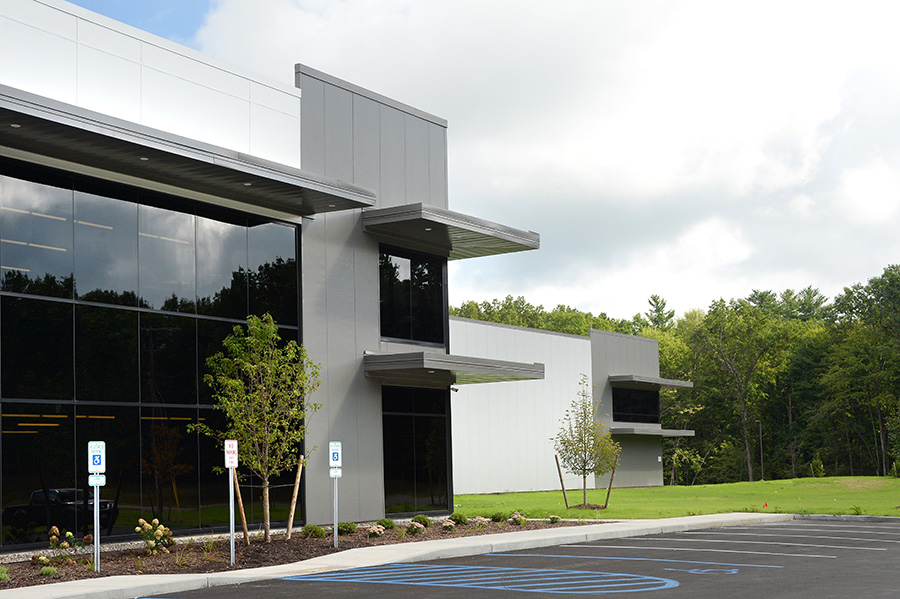 "You only have to visit the wall once during installation.  In one pass, the 'skin' you are installing is a finished product that can easily meet the energy codes – which are continually getting stricter. And with the variety of colors, finishes and textures, it's easy to achieve a great look.
Metl-Span IMPs installed quickly to keep business up and running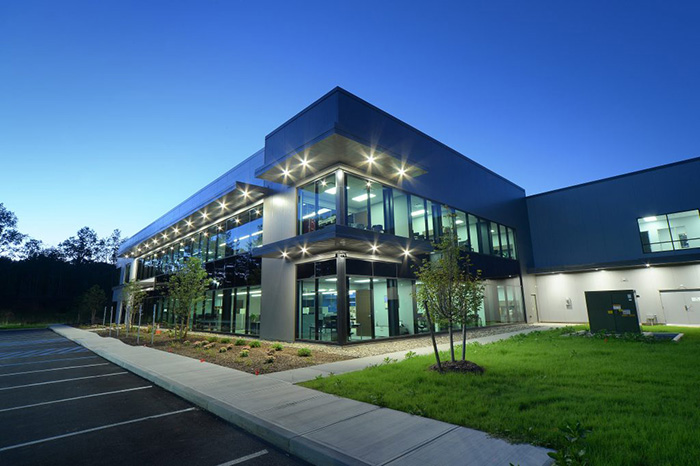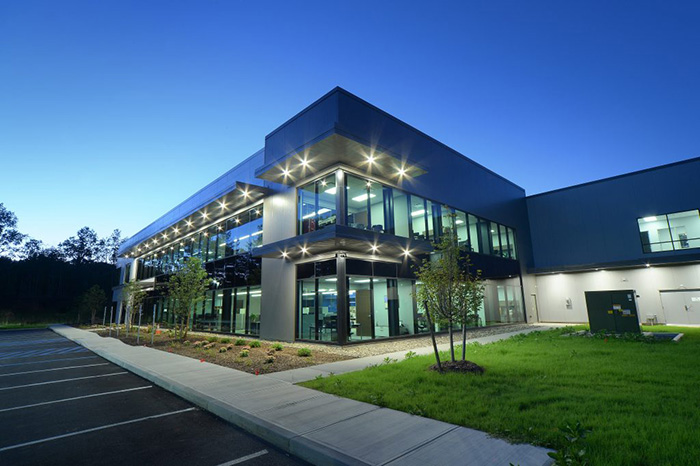 To keep up with the company's growing customer base, SKS Bottle & Packaging Inc. required a new, larger facility. To keep any interruption of service as brief as possible, the 140,000 square foot office and warehouse was constructed with insulated metal panels (IMPs).
Metl-Span delivered more than 90,000 square feet of CF-42 insulated metal panels in two profiles and colors, both filled with a three-inch urethane. SKS moved from Watervliet, N.Y., to this new facility in the WJ Grande Industrial Park in Saratoga Springs, N.Y., less than five miles from the home office of Munter Enterprises, Inc. who was the general contractor as well as the IMP installer for the project.
Since beginning operations in 1972, Munter Enterprises Inc., has become a leader in the Northeast construction industry. Munter Enterprises offers their customers a variety of construction services beginning with land acquisition and design, through planning and general contracting. Self-performing the major trades, such as steel and IMP erection, using the highest quality and skilled personnel in the region, assures their customers' projects are completed proficiently and safely.
With the assistance of firms such as Paone Architecture, Munter Enterprises offers comprehensive guidance through all stages of design-build projects – site and building design, local permitting, and of course the construction. This has enabled Munter Enterprises to provide construction services for some of the largest companies in the region and nation. Munter Enterprises is committed to the continued satisfaction of their customers by providing many more years of quality, value, safety and superior service.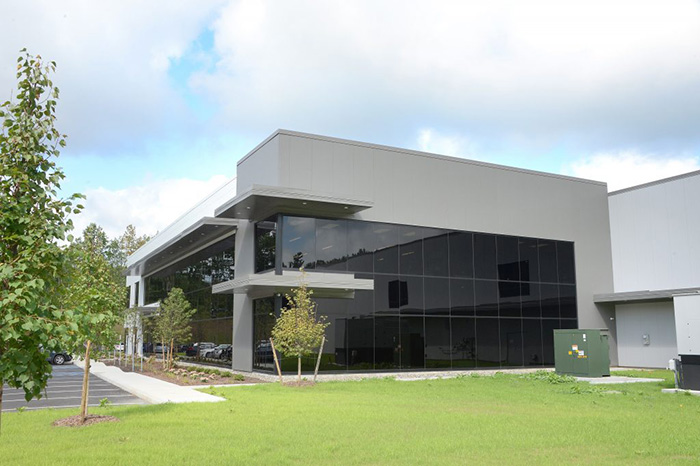 "It was an aggressive 268 days from building permit to certificate of completion – the land was cleared in the fall, foundations started in November into December 2017 followed by steel erection in a bitter cold January," says Todd Coffin, Project Coordinator for Munter Enterprises. "Other than a couple key open wall areas for access of equipment, cement trucks and management of materials into the building, we had the building essentially enclosed by May of 2018."
SKS is a supplier, consultant and designer of plastic bottles and jars, glass bottles and jars, metal containers and closures for packaging. SKS is a worldwide supplier of containers, offering more than 6,000 containers and closures.
Coffin says Munter Enterprises has a lot of experience with IMPs, so these vertically installed panels went up without a glitch. "It's always easier to go with vertical cladding when you have a typical pre-engineered girt design," he says. "With horizontal panels, you're required to install additional vertical framing and backers and need to coordinate the seam layouts with structural constraints, aesthetic elements and shipping lengths."
The offices located in the front of the building are clad with the CF-42 panels which feature a 24-gauge Galvalume exterior in Charcoal Gray with a Santa Fe finish. The remainder of the CF-42 insulated metal panels have a 26-gauge Galvalume exterior in Tundra with a Light Mesa finish. The interior of all of the IMPs is 26-gauge Galvalume in Igloo White with a Light Mesa finish.
The flat roof features an internal gutter system and is 31 feet high. The IMPs exceeded the eave lines to create a parapet of varying heights to break up the "boxy" look of the building and provide screening of the mechanical systems on the roof. In some spots, the IMPs are 35 feet high and in others, they are stepped down to 32 feet.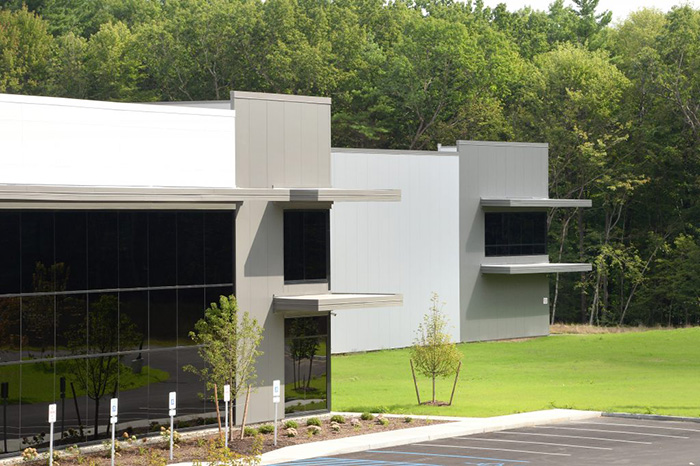 The offices and the corners of the facility are highlighted by glass – even the upper corners of the warehouse area – with overhangs above and below the windows to enhance the aesthetics of the building. The soffit panels installed on these overhangs are Artisan L12 beaded soffit panels from MBCI, a sister company of Metl-Span, so the colors match perfectly. Using the beaded panels greatly reduces the chance of oil canning.
John A. Paone, RA, Project Architect at Paone Architecture in Saratoga Springs, has gotten quite comfortable taking advantage of the many benefits offered by insulated metal panels. "It's the one-stop shop," he says. "You only have to visit the wall once during installation. In one pass, the 'skin' you are installing is a finished product that can easily meet the energy codes – which are continually getting stricter. And with the variety of colors, finishes and textures, it's easy to achieve a great look.
"When you're constructing a warehouse you generally have massive wall areas to address – and unless you have an unlimited budget, you can't afford to spend too much money on product systems that are both energy efficient and aesthetically pleasing. Insulated metal panels simply address both of these elements and work as well for the warehouse area as well as they do for the office sections – the colors and textures make it easy to dress up the façade so the building doesn't look like just another box warehouse."
The varying heights of parapet walls was a design element Paone tried on a different project and believes it helps improve the appearance. "With each job we try to do something new, change it up a little," Paone says. "You can do that with these panels. You have some design freedom."
Metl-Span, an NCI Building Systems (NYSE: NCS) company, delivers high-quality, durable and energy-efficient insulated metal panels designed for unparalleled performance to stand the test of time. For more information on Metl-Span products, call 877-585-9969 or visit www.metlspan.com.
---
Have Questions About Our Products?
Please fill out the following information and an experienced sales representative will be in contact. We look forward to hearing from you!
---
View our Privacy Policy